« view all posts
Hey good people!
If you're anywhere in the Shreveport area, go pick up a copy of the Preview section in Friday Nov 21 Shreveport Times. Dirtfoot is on the cover with a very cool cover photo and great write up by Alexandyr Kent.
If you're not in the area... here's a link to the article and we've copied it below.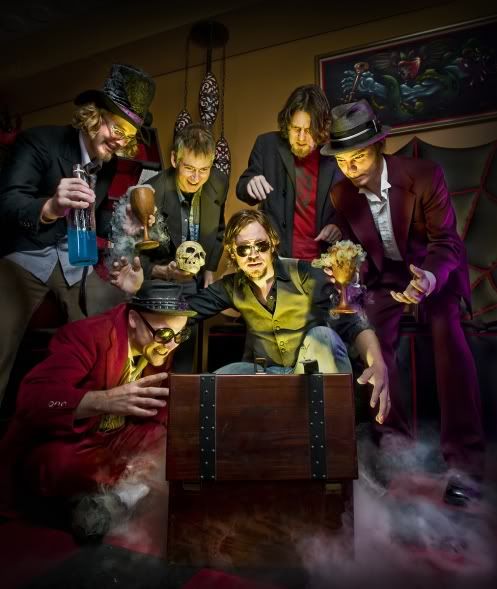 Shreveport Preview Nov 21, 2008
And we'll see you all at the CD Release - Nov 22,2008 at the Warehouse - Shreveport LA!
Dirtfoot to release its second album Saturday
Shreveport band hopes for great things
By Alexandyr Kent • akent@gannett.com • November 21, 2008 2:00 am
With the release of their second album, Dirtfoot could head in one of two directions.
"I personally think we're on the edge of something big," says lead vocalist Matt Hazelton.
"It's either stardom or a train wreck," counters banjoist J. Bratlie. "One or the other."
By superstition, bands don't seriously entertain bad predictions, and Hazelton laughs off Bratlie's sarcasm as something that shouldn't be printed in a newspaper. But there it is: a sharp truth that slices to the core of artistic potential.
In the future, bands either fly or flounder.
"Bone Sessions" represents Dirtfoot's bet on taking flight. The 51-minute album features the signatures that have earned the band its following.
There is Hazelton's deep, growling voice that's equal parts delighted and demented.
There are Bratlie's old-timey banjo and his tenor backup cries.
There are the band's elder statesman, Lane Bayliss, 50, keeping order on drums; the youngest blood, Daniel Breithaupt, 24, adding percussive quirk with xylophone, vibraphone, congas, bongos, or pots and pans; and Eric Gardner plucking out soulful, up-tempo standup bass lines.
And then there are Scott Gerardy's saxophone solos — their slow, smooth notes creeping behind melodies and suddenly overtaking them with accelerating, unrestrained swing.
The band members don't want to define what they are doing, other than to playfully describe it as a "dose of gypsy punk country grumble boogie" on their Web sites.
Whatever it is, Dirtfoot's music inspires a whole lot of boogie-on-down and bean-can shaking among listeners at their live shows.
"It's fun," Hazelton, 33, says again and again, and part of what makes it so is how the six-member band relies on improvisation to make familiar songs surprising and inventive.
"Out of nowhere, Scotty comes up with this incredible beast of a solo and then inspires Eric to change up his base line," Hazelton continues. "In the middle of what we think is a regular moment, it turns into a completely new animal."
That transformation, however fleeting, is what each member prizes.
"Our music is one of the most original things I've been a part of, or heard," claims Gerardy, 31.
"When we're on stage, you really get to live in the moment," believes Gardner, 29. "I almost feel like I'm a different person."
"Once it starts, it's all good," extolls Breithaupt.
Dirtfoot's music features no electric guitars. Nearly no effect pedals. No samples of prerecorded music. No distortion of what instruments traditionally sound like.
The acoustic music is free-spirited and raucous, and sounds as if it were pouring out the broken window of a roadhouse planted in a swamp.
"It's real," says Bayliss. "It's certainly not slick and the same every single time."
The way the music is finished is also very democratic. Songs originate from Hazelton — who writes the lyrics and sets them to guitar — and are then fleshed out by the band during practice sessions.
"I bring the raw meat and we cook it," Hazelton says. "I'm the only the one in the band that is not a true musician in sense of musicianship. I never took any lessons, so I don't really understand the lines I need to live in."
Instrument by instrument, layer by layer, band members add their touches to finish a song. Sometimes it takes 30 minutes. Sometimes it takes longer than a two-and-a-half hour practice session.
Hazelton acknowledges that creative visions clash sometimes, but "somehow, someway, it works. "» . It helps that they know they rules, because that's what makes the songs complete."
While Dirtfoot members feel confident they're on to something irresistible in their music, they also feel certain they are only beginning to tap their audience. Dirtfoot has spent many weekends of the past 20 months touring far away from Shreveport in towns like Austin, Fort Worth, Dallas, Little Rock, Hot Springs, Fayetteville, Memphis, Columbia, Springfield, Lawrence and Wichita.
"Whether it's 10 people out there or 4,400, they're having a great time," says Bratlie, 36. "We give people a chance to go out there and shake their booty."
The question remains, however, as to whether or not those booty-shakers will grow and part with more loot.
Dirtfoot, now six years, gallons of sweat, measly profits and hundreds of bean-can shakers into their history, feels as if they have put in the work to make it on their music alone. The band members want the public, and a record label, to buy into their passion.
"We see the response from people," Gardner says, and it's good. "To me, it's a dream of doing this for a living and not having a day job."
As Bratlie hopes, "We're ready for the machine to step in and help us move along like we need it to."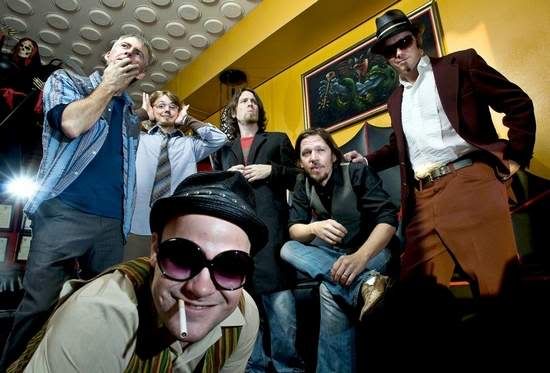 Leave Comment: