« view all posts
Hey everybody,
We're just getting back from Waka and it's taken a few days to recover. By the end of this story you'll completely understand why.
Waka day 1 and 2...
Our story begins with a 10 hour treck north. Pretty uneventful trip for all and we arrived in what seems like our 2nd home now, Lawrence KS. Part of our crew arrived on Tuesday get firmly camped and the other half made it in wednesday night.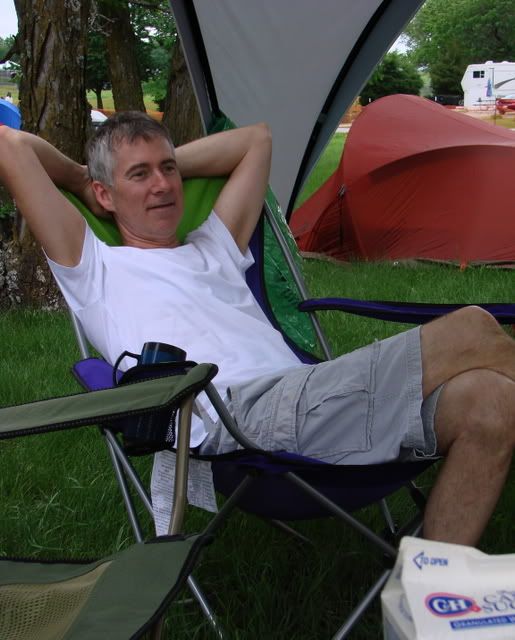 Our first show of the week was the Pre-Party at the Bottleneck which was a fun show.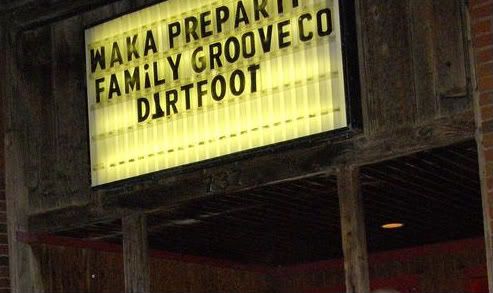 There's already a recording of the night up at
www.archive.org
and we met some really awesome bands. Steel Train played and they did a really cool version of Tusk by Fleetwood Mac. The night was closed by the Family Groove Company who are a talented bunch of guys. All in all it was a good night and we made our way to the campsite to bed down for our big day.
Thursday morning started a little gray and overcast. The word was going around the festival that there would be torrential storms that evening, but hopefully all would blow past. We finalized our campsite and headed off into the festival to check out Big Smith, South Austin Jug Band, Truckstop Honeymoon, and Robert Bradley's Blackwater Surprise. We had a full fill of great music and it was time to head to our tent. We loaded all our gear into the set up area and Daniel began to put together his new MONSTER percussion set.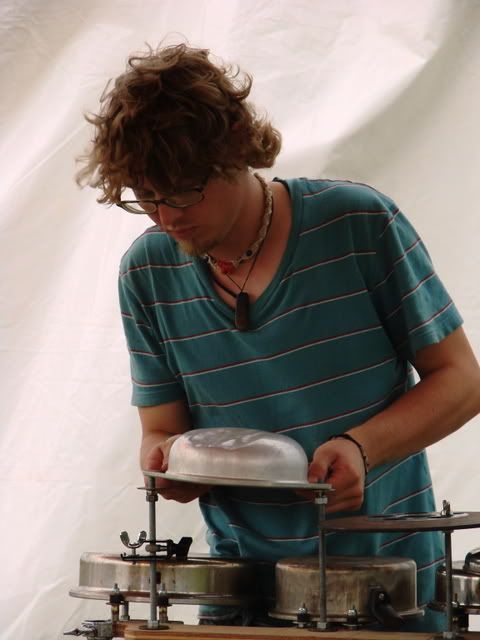 It's slowly grown over the last few years and now he's decided to pull out the big guns for Waka. The Station ended their set around 7:30pm and began to break down. We waited for the stage to clear and we're ready to load by 7:45pm. The sound man started calling out how much time we had till 8:00pm, "15 minutes guys" and then "8 Minutes guys". At the same time, the winds are starting to really blow.
The Revival Tent about 10 Minutes before we were scheduled to play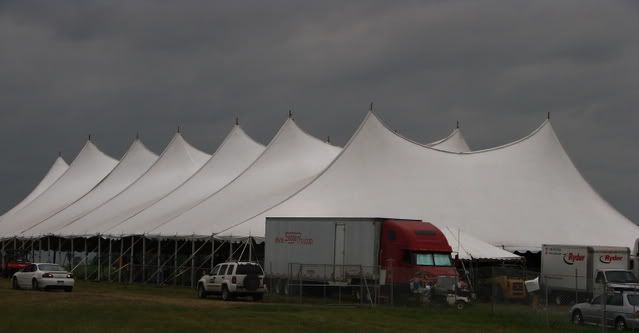 The roof of the tent starts blowing upwards, and quickly being pushed down by the forcefull winds. The storms are going to be here any minute and we want to start playing. We get the "3 Minutes" followed shortly by a "sorry guys, they're shutting us down".
This shot was taken about 10 seconds before they closed the site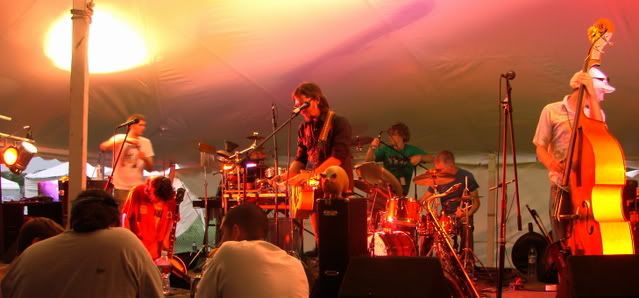 We all stood there, mouths dropped and not sure if this was a joke. It wasn't raining, the wind was blowing and there was some lightning in the distance, but we were still dry. About that time, they come over the loud speakers and announce that the festival is going to be shut down due to severe weather that is heading our way. They want everyone to head to shelter, and if you hear sirens, that means it's a tornado and to head to low ground.
As you can imagine, we feel pretty bummed. The stage manager, a very cool cat named Michael, says that if the storm blows over, they may start things back up, so keep close to our phones and be looking for a call. He also said that he would crank up till 4:00am if we had too, so be ready to play.
We headed back to camp and tried to figure out what to do. Should we stay in our site and try to ride out the storm, which so far had been pushing 70-80 mile an hour winds and tornados, or head into town and find some significant shelter. Right about then, the local sherriffs come driving through the campsite, loudspeaker blaring, "The storm is about 15 minutes away. Please take shelter immediately". Well that was it for us, we knew that we were heading into town and we did. Part of the crew went to a local grocery store and the rest went to a little Pita place (very tasty!) and waited for the storm to blow over. It finally hit around 10:00pm and was not very impressive. Basically, there was a big gust of wind, a heavy straight rain for about 30 minutes and then a steady rain. We've definitely seen worse down in Louisiana, so we decided to head back to camp and see what survived. Luckily everything was intact at our camp, but we soon discovered that the festival would not be restarting that night. We all bunked down to get some rest because the next morning is the Chompdown.
The 2nd Annual Chompdown is set to begin at 10:00am. The Chompdown is a group of truly good people who want to do something good for all the campers at Waka. What's better in the morning that a hot home cooked breakfast and that is what they do. Eggs, bread, Bacon, butter and other great breakfast stuff is donated and volunteers (mostly the Waka Bloggers) let by Rabbit, put the whole thing together. Along with the food the Chompdown brings music to the people so Grazgrove and ourselves made a repeat performance. We arrive shortly after ten to see a line of people 200 deep and the grills are frying and the food is being served.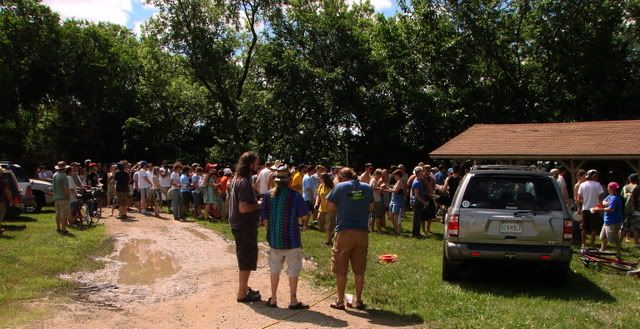 Grazgrove is set up a very cool small PA system but they're having trouble with the power. So much power is being pulled from the building we're in that circuits are blowing.
So Pauly, Rabbit, J and another fellow, I think Shadow, start compiling extension cords and ran a 500 foot extension cord down to the next upgraded camping site with power.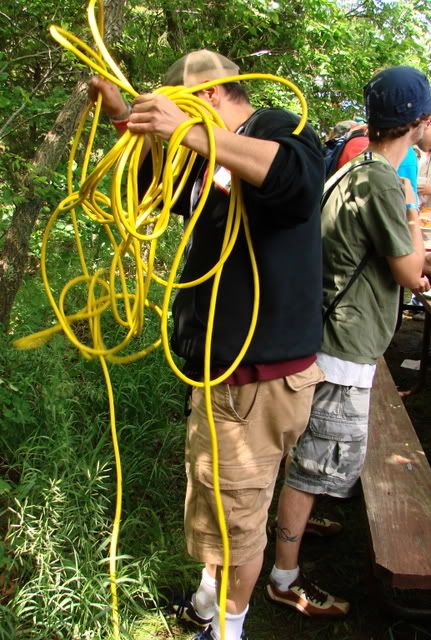 We plug in quickly and Grazgrove is up and running full steam. They put on a great set and graciously let us use their system. We got up and played a cool laid back set, mixing things up a bit and played a few newer tunes.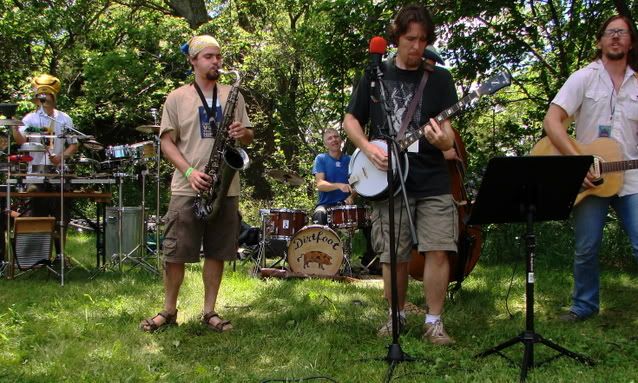 One memorable moment was during the end of Back of a Stranger, J started immitating the Wawa effect that Eric normally uses on his Bass, not realizing that mike was picking it up. The crowd yelled to do it again and he leaned into the mike and did his best bass wa impersonation. Laughter errupted all around and smiles were on many faces.
There was also a special treat. A cool Austin cat named Danny had approached us about proposing to his girlfriend during our set. He wanted us to play My Girl, then he would drop down on one knee, and...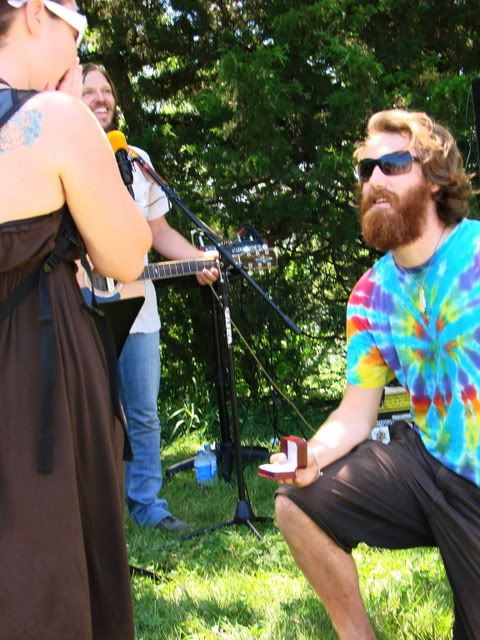 ...he did. His lady Emily quickly said yes, and he the crowd cheered. We played Falling in Love for them and the people started shaking their cans and dancing.
With all the crazy weather, and our show getting cancelled, this morning had truly become glorious. There was so much love and appreciation of all the people that were there. Everyone was pitching in, washing plates, cooking, serving, running errands back and forth. Every once in a while you see something that reinforces the idea that goodness does still exist in humanity, that people will come together, for no other purpose than to do something good for their fellow humans. It was truly heart warming to be part of such and event.
After playing such a cool event, we decided that we had to try and lock down another show to replace our cancelled spot. We made our way back to the Porch Stage and spoke with the stage manager Michael. Very cool cat, he offered to put us on at 3:00am the only slot he had available, but recommended we talk to the production office first. So, we trekked back over to the production trailer, and were told that all available slots were full, but to get the approval for the late show we had to talk to Brett, the head dude of Waka.
So now our mission is clear, find Brett, who we've seen riding his bike back and forth past our camp, but now we can't find him. So we start the search, we run into a Team B brother, and he says, no worries, just find Brett and I'm sure you'll get the spot. We keep our search up, but there's another scheduled show for us.
The VIP area is part of the campsite where for a premium, you get to camp right next to the main stages, you get front row access to the main stages, you get free beer, you get fed twice per day and you have "nicer" facilities. Also, bands come in and jam for all the folks hanging out in the VIP tent. We were scheduled to play 6:00pm for the dinner set and when we arrived, a really cool band, Turbine, was finishing up their set. Very cool band, super tight, with an amazing drummer and a harmonica player that ran his harp through all kind of crazy effects, making it sound at times like an old Hammond. Very Cool. After their set, they let us use their PA and we played a very quick 30 minute jam in the VIP. We saw some familiar faces and when all was said and done, we even got fed some Mexican. Good times all around.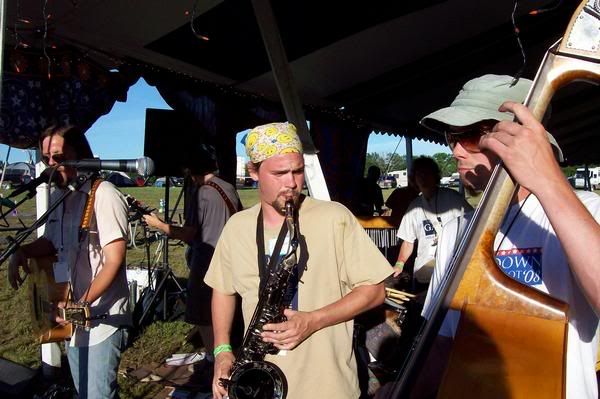 We then packed up and proceeded with our mission to find Brett and get the show locked. J got on his phone and started digging through old emails, until finally he found an old one from Brett with a phone we haven't tried. Sure enough, it was his pocket phone and after a quick discussion, Brett gave us the approval for the late night reschedule.
We ran to find the guys, only to discover that Scotty had just gotten a text message from Ben from Galactic, asking him to come sit in on their show. They were scheduled to play midnight on the Revival stage, but Cake's plane was delayed so they switched spots and Galactic is now on the main stage, opening for the Festival headliner, the Flaming Lips.
How did this happen you wonder, well Scotty has met the Galactic guys a few times in the past, (Bonarroo and Waka) and a few weeks ago, Scotty was performing at a Wedding that Ben was attending in Shreveport. They talked and Ben said, "Keep your ears open at Waka, maybe we can jam together".
So, Matt and J head off to the Porch Stage and Production Trailer to lock down the details for our Saturday night 3:00am Reschedule show while Scotty get's ready to blow. We all met up back stage with Galactic and waited for Scotty to make his big performace. Well brothers and sisters it sure the hell happened and Scotty blew that horn like a man possessed.
Scotty also told Ben while they were on stage about our recent gig reschedule, and so Galactic gave Scotty, the band and our show a shout out! Very Cool!
What we also didn't know was that Wayne from the Lips was hanging out back stage and watched Scotty play. According to a few folks, Wayne even gave Scotty and us a shout out while they were getting everything set up. Hopefully we'll find a recording of this soon!
What an amazing night! We all hugged and kissed our boy Scotty for his great performance, which you can hear at
http://bt.etree.org/
and do a Waka Galactic search. We went back to our camps and crashed, knowing that Saturday night was going to be big and we needed our rest.
So, Saturday has come and we made our way around to check out the awesome bands. J went to see the Gourds, wearing his Picket Line Coyotes tshirt (that was the singer and bass players band before the Gourds). He got to meet the Gourds and they were impressed with his 20 year old t shirt, and we are currently working on a local show in Shreveport. More to come on that soon. We also started passing out fliers and handbills for the Saturday night show. We knew it was going to be tough since there was no official announcement of the show. We put them on trash cans, port a lets, and anywhere we knew people would see them. All in all, we passed out 100 fliers and 600 handbills and the word was spreading.
So the late night came. We showed up at the Porch stage at 2:00am and started setting up our gear. C-Mon and Kypski was playing ahead of us started a little late, but they were awesome. We enjoyed they're odd mix of hip hop and rock and european flavors. They were supposed to end the show at 3:00am and we were going to do a quick set up and go. We had to end the show at 4:00am no matter what so we knew time was limited. Well, they ran over by about 15 minutes, so we weren't ready to play until 3:30am.
We didn't care. This was our show and we were going to make it the best 30 min we've ever played. The crowd immediately was awesome. We had 100 folks in the tent, many of the Chompdown crew were stomping in the mud and having a good time. We also had some special guests in the crowd, Papa Mali, members of STS9, the yard dogs Road show, and many others, and we were hyped.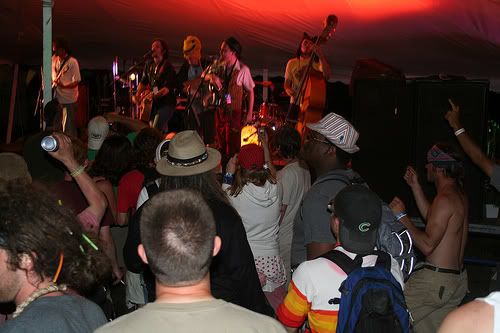 We played 5-6 songs and 4:00am rolled around. We got the 1 more song sign and we played Bathroom Sink. The crowd was jumping and at the end of the tune, started chanting "DIRTFOOT, DIRTFOOT!" The stage manager said, OK, 1 more and we went into Rhinestone Ring. About this time, the other 2 stages that were running shut down, and all the people started heading towards our tent, the only one still running music. The tent quickly filled and we had estimates of 4-500 people pack into and around our tent. As we finished the tune, the stage manager said, "OK 1 more tune". We went into Folsom Prison and we got another "1 mor song" from the manager. Well this happened 2 more times and we played until 4:30am. We finally had to shut down, but had a blast and got to play a full 1hr set. Special thanks to Michael Miller, stage manager for the Porch Stage and his crew for letting us play so long. It truly was an amazing night and it couldn't have gone any better.
We broke down our gear and met a lot of great people. We were stoked at the turn out and everyone was very cool. I think we finally made it to our camp site and crashed around 5:30am. I don't think we've ever slept so hard!
Well Sunday rolled around and Matt and J headed back to Shreveport, while the rest of the crew stayed to enjoy the last day. As many of you know, the day quickly became a rain out and the rest of the crew dealt with the rain. While some of the bands that were high on the list, Zappa plays Zappa, etc, were cancelled, we did get to see some cool acts. All said and done, we were very excited about our weekend and all the shows and new friends that we met. While many have complained about the weather and some of the issues with the festival, it was truly an exciting weekend for us.
So, Wakarusa 2009, we hope to be back. Thanks again to everyone who made this weekend so awesome and we can't thank you all enough for your continued support.
Keep on Footin'
Dirtfoot
Leave Comment: